What I Did During the Covid-19 Shelter-in-Place
It was the best of times; it was the worst of times. The spring of 2020 was confusing, free-wheeling, frightening, eye-opening, lonely and boring. And it also presented a singular opportunity to do something "new and different" with all this time on my hands, living by myself, shut inside a tiny condo high in the Colorado mountains.
But first, I started out doing typical things, probably like so many others in the ski industry. I watched ski and snowboard movies, read and researched about ski trips I want to take in the future, read a ski book or two, and then watched even more Warren Miller movies.
Then, out of nowhere, a brainstorm hit me regarding an idea that had been percolating in my mind for quite some time. I had finally come up with a catchy way to display all the names for types of snow that I had been collecting over the years. A flash of insight, a bolt of "clever-osity", a divine inspiration. Whatever it was that hit me, I now had something to run-with.
You know what I mean when I'm talking about the different names for "types of snow". All those whacky names we give the various snow conditions we try to ski in each season: Powder, Cold Smoke, Free Refills, Granular, Hardpack, Bulletproof, Wind Crust, Death Cookies, Pow Pow, and on and on. Since the names spanned the full spectrum from exquisite snow to merely good snow, and from marginal snow to tricky snow and more, I needed a versatile way to organize all the types. Grouping them by overall quality and desirability seemed to be best approach. And what better way to accomplish this, than to use a universally recognized organizational convention: the Periodic Table of Elements. Yes, that famous chart of chemicals and metals and so much more! Okay, truth be told, my version is a hack version. And at best, it's a fun adaptation ("irreverent, stupid in places, but clever" is how my wife describes it) of this exceptional chart of scientific facts and knowledge.
Russ Scholl is a PSIA-certified Level II alpine instructor, teaching primarily kids and families at Breckenridge Ski School, Colorado. He's a 39-year veteran ski instructor, teaching in New England, Arizona, the mid-Atlantic region and the Colorado Rockies.
So, here it is: the "Periodic Table of Snow", in all its laughable glory. I hope you have a few chuckles as you read it, and maybe use some of the terms in the future. Although it took many hours of research and preparation, as you might imagine, I had a blast developing it. But what else was I going to do during a pandemic shelter-in-place? I had plenty of hours to fill. Time was something I had plenty of, in the spring of 2020.
Online Shopping
Convenient online shopping and check out!
The Perfect Gifts
Our products make great gifts for loved ones and friends.
Spring 2021 Update:
Yes, Covid-19 and its variants are still festering across the land a year later, and life-as-we-know-it still has yet to return. Regardless, I've decided to roll-out a series of "Periodic Table of" graphic prints. This spring, I've developed a huge Periodic Table of Military Slang (a whopping 321 data sets), with sections for each branch of the U.S. military and terms from WWI, WWII, Korean War, Viet Nam War and even a list of phrases over-used in Hollywood movies!
And then there's the recently developed Periodic Table of Science Fiction, anchored by Star Trek and Star Wars on either side of the chart. There are sections for influential movies, music, influential books, weaponry, modes of transportation and more! And on the back, there are lists of favorite Sci Fi characters, cool places, wonderous technology and devices, and "big names" in Sci Fi.
So much fun in development, the terms and slang offer a history lesson, a bank of trivia knowledge, and a motivation to delve deeper into these things! Let alone, they are unique conversational artwork. Okay, maybe that's a stretch, but these posters will look pretty cool on the wall of your ski lodge, dorm room, in your den or office. Heck, here's the answer to "what to get that person who has it all…" Maybe the perfect Christmas gift! I hope you'll take a look, get excited, and enjoy these prints for years to come!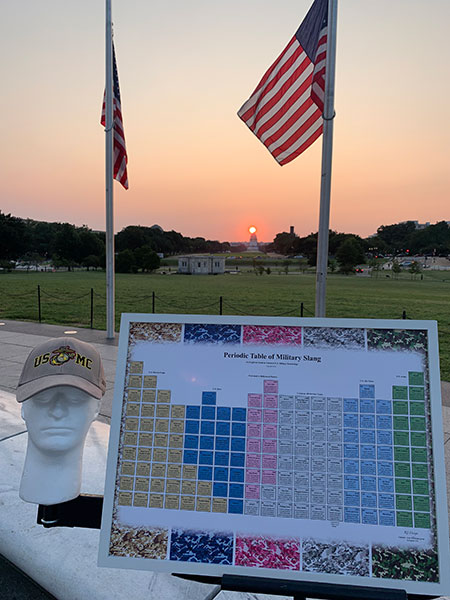 The Periodic Table of Military Slang chart is a tribute to the colorful language used within our U.S. military community.  With sections devoted to the various branches of the military, chances are you'll find terms and slang here that you never heard before.  Also available is the Page Two chart with even more slang terms, and an historical study of slang that first became popular during WWI, WWII, the Korean War, and during the Vietnam conflict.  Each print is surrounded by a colorful camouflage backdrop, you are sure to surrender to the pure beauty of this print!
​Summer 2022 Update:
Well, Covid looks like it's playing the long-game, as it's still kicking around and upsetting the apple cart of our lives.  We've been fortunate, health-wise, around here, and hope the same for you, too.  Regardless, RSDesign is moving forward!  Our latest products to come to market include the "Periodic Table of Military Slang" and the first-in-a-series of household hand tools: the Ski Pole Plunger!
Either would provide the perfect holiday gift for that wacky relative, or that person who has everything.  Because I suspect they don't have anything like these babies!
The Clean Mountain Campaign
The raw materials for all of the Ski Pole Plungers are gathered and harvested on ski trails across the Rockies and throughout New England.  The harvesting is done after the snow melts, when our volunteer hikers forage for lost and dropped ski poles, usually found under chairlifts.  As part of our "Clean Mountain Campaign", RSDesign is helping to clean-up our beloved mountains, and helping to reduce the volume of trash going into local landfills.  So your purchase of a Ski Pole Plunger from RSDesign is a statement of your support toward a cleaner environment.  These Plungers are fully functional, and whimsically decorative, too. Note that the Ski Pole Plungers can be ordered in sets (for those of you with multiple bathrooms in your dwellings).  Or the Ski Pole Plungers can be custom-ordered with you favorite brand name on the shaft, we'll fabricate your plunger to your favorite shaft length, and they are available in your favorite color to match almost any bathroom décor. Check out all the options before you place your order!